Tracfone Customer Service is a weak point. Tracfone customer service is often maligned sometimes for good reasons.
Remember you bought the service because it was Cheap
If you get a Free phone and pay $10 a month how much can the company spend on customer service? Often the people that spend the least on their phones need the most help!  I needed a lot of help at first.  I have been happily saving money with Tracfone and Net10 since 2003.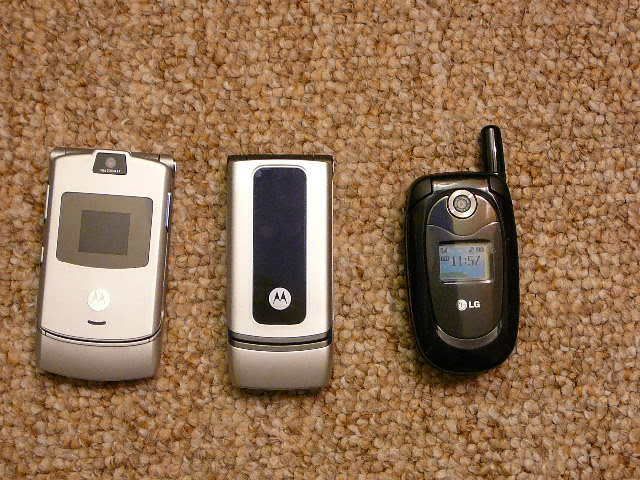 Motorola Razr, Motorola W370, LG 225 Prepaid Camera Phones
Avoid Customer Service
Tracfone cell phone problems occur. If you can avoid dealing with Customer Service that is always your best bet.
If there is any way to solve the problem try to do it without contacting TracFone Customer Service.
If Tracfone says they will call you back, do not hold your breath. It usually doesn't happen. Expect to have to call them back.
Be Prepared
If you must go to Tracfone Customer Service be prepared.   Write down your serial number in large enough print so you can easily read it while on the phone. Have the Phone number, number of minutes and expiration date written down also before you do anything.
Call from a land line. They will often put you on hold for several minutes during the conversation. They will not reimburse you for Tracfone minutes while talking to Tracfone Customer Service .
Tracfone Customer Service 1-800-867-7183
Since you got this far you want to remember that getting mad will get you nowhere.  All of the Customer Service agents for Tracfone are overseas.  For many of them English is not their first langauage.  They are reading everything from a Computer Script.  They have to stick to the script or they will lose their job.  I have always been able to get my problem solved but sometimes it can take several calls back.
Tracfone Executive Level Complaint numbers
1-800-876-5753  or 1-800-339-9345
I have read that these numbers work better.
Refurbished or New Tracfone?
Most refurbished phones will work fine. Given a choice I will always take new TracFone over Refurbished. You cannot tell the difference except the new phones come in a plastic retail package and the refurbished usually come in a white cardboard box.
Most Common TracFone Problems
Porting your Number
If it isn't really important to keep your old number don't. Many problems with Tracfone come from trying to port your number. Porting a number involves the vendor your number is currently with Tracfone and the vendor you will be moving to. Since Tracfone does not own a network they buy time on other networks. This is why porting a number can be difficult because there are three different companies involved.
Broken Phone
If your phone doesn't work properly you can probably get a new phone from Tracfone, even if it is out of warranty they will probably send you a refurbished phone for free. Be nice, and persistent. Nice people are rewarded by customer Service agents.
I didn't get my minutes
I have added minutes to my phone and they did not go on my phone. Turn your phone on and off again, Try that a couple of times. I have gone back to the website and added them again. Sometimes it works the second time without having to call Tracfone Customer Service.
Here are some other Prepaid Wireless Cell Phone Articles
The Most Expensive Tracfone Mistakes
Cure for a Tracfone W376 Weak Battery
How to use Bonus Coupons and buy Tracfone Minutes

The Best Tracfone Wireless Deals
Buy a LG 225 phone with One year card at TracFone.com and get DMFL, 14 months 800+ minutes, and free shipping! I Recently purchased one of these for a friend and I got her 1120 minutes, 14 months, DMFL, and a new camera phone for $100.  I used Bonus Code 55118 from
Tracfone Bonus Coupons for 300 bonus minutes.
Tags: Broke Tracfone, Customer Service, Pay as you go, Prepaid, Tracfone Problems